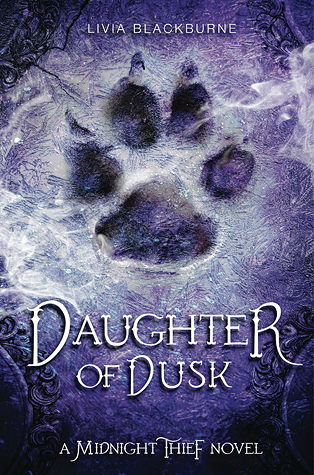 Title: Daughter of Dusk
Author: Livia Blackburne
Publisher: Disney Hyperion
Release Date: August 4, 2015
Rating: 3/5
The Gist: After learning the truth about her bloodlines, Kyra can't help but feel like a monster.

Though she's formed a tentative alliance with the Palace, Kyra must keep her identity a secret or risk being hunted like the rest of her Demon Rider kin. Tristam and the imprisoned assassin James are among the few who know about her heritage, but when Tristam reveals a heartbreaking secret of his own, Kyra's not sure she can trust him. And with James's fate in the hands of the palace, Kyra fears that he will give her away to save himself.

As tensions rise within Forge's Council, and vicious Demon Rider attacks continue in surrounding villages, Kyra knows she must do something to save her city. But she walks a dangerous line between opposing armies: will she be able to use her link to the Demon Riders for good, or will her Makvani blood prove to be deadly?

In this spellbinding sequel to Midnight Thief, Kyra and Tristam face their biggest battle yet as they grapple with changing allegiances, shocking deceit, and vengeful opponents.

Review:
Daughter of Dusk picks up shortly after the events of Midnight Thief. Kyra is working for the council and struggling to keep her birthright a secret. In this second book, a former background character steps forward as the big baddie. His aims go far beyond the destruction of the Makvani race and Kyra must discover his secrets before both sides suffer tragic losses. With one foot in both worlds, Kyra is the only one who can prevent a war and save those she cares about.
I stopped and started Daughter of Dusk a couple of times as the beginning was quite slow. There is a little too much political drama and too little action. Kyra spends a great deal of time contemplating whether or not she is a monster and has a difficult time coming to terms with who she is. This is not necessarily a BAD thing as it makes for good character development, but I was pretty anxious to see her meld both sides of her heritage and kick some serious butt. Things picked up at about the halfway point when circumstances demand that Kyra leave Forge and come out of hiding as half-human and half-Makvani. During this time we also get to learn more about Kyra's family history and there are one or two interesting surprises.
The characters are enjoyable and I was particularly happy that we got to see another side of Flick. I was quite pleased that he never became a serious love interest and thrilled that he found his own match (can we get a story about them please?) The romance between Kyra and Tristam continues to be teased as both realize their stations make a serious relationship impossible. While I like these two characters together and we got to see a deeper side of Tristam as he struggles with his own prejudices towards the Makvani, I didn't feel a great deal of chemistry between them, so that part of the plot fell a little flat.
Daughter of Dusk has a satisfactory end that leads me to believe it is the last in the series (at least the last that tells Kyra's story) but there are still stories to tell. We may see these in novella form or in additional books set in this world, but concentrating on other characters - at least that is what I am hoping.
Bottom Line: Daughter of Dusk is a solid second book in a series with potential for more.
Teaching/Parental Notes:

Age:
13 and up
Sex:
Kissing
Violence:
Swordplay, Knifeplay, Violence towards a child
Inappropriate Language:
None
Substance Use/Abuse:
None