September was a bit of a rocky month, reading wise. My husband left for an extended deployment and that left me taking care of my 4 year old and 9 month old without any help from family (since none lives nearby). While that leaves me lots of time for reading in the evenings, sometimes the loneliness is more than I can take and I need to invite friends over (or at least turn on the tv so that I can hear another person's voice). There is also the never ending battle with the Heir about bedtime and is ever growing list of "Just One Thing"s that he uses to delay my favorite part of the day - when he is asleep!
I did manage to fit in 6 books (and The Witch's Daughter was super long so that has got to count for 2); one phenomenal, and a few "meh".
The first words you read can often set the tone for the entire story. I thought it would be fun to keep track of the first lines of the books I read each month and share them with you. Below are the first lines for all the books I read in September.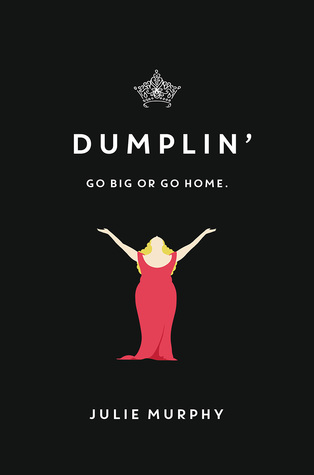 "All the best things in my life have started with a Dolly Parton song."
This was my favorite first line this month. It just tells so much about the character in that one little line. This was also my favorite read for the month. I know it is super hyped right now, but if you haven't yet given this one a shot, do. It is a great story with fantastic characters and shares a very important message, that everyone is beautiful and that everyone struggles with insecurities.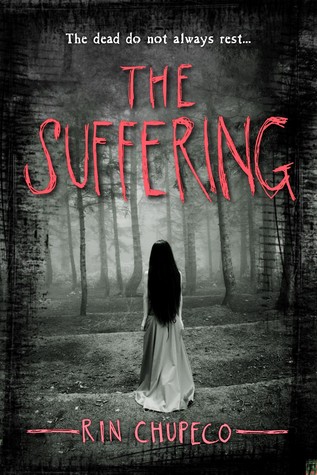 The Suffering
by Rin Chupeco
"I'm no hero, believe me."
A solid opening, if a little boring. The Suffering is an awesome read for October, in fact I really wish it has been released next month instead of this one. Incredibly creepy but with a bit of heart.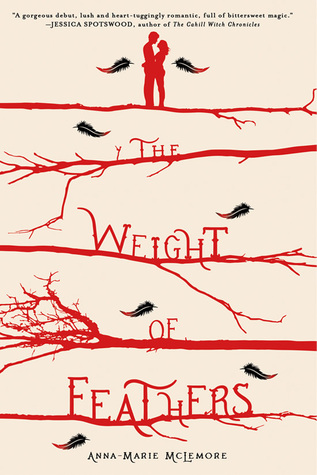 The Weight of Feathers
by Anna-Marie McLemore
"The feathers were Lace's first warning."
Interesting first line but not as compelling as I had hoped. That goes for the rest of the book as well. Good, but not great. Disappointing for someone who is as big a fan of magical realism as I am.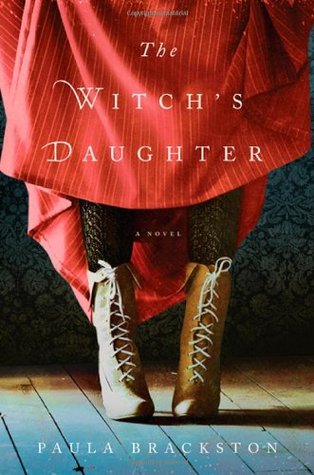 The Witch's Daughter
by Paula Brackston
"Bess ran."
B-O-R-I-N-G. Worst first line of the month. The book wasn't as bad, but for a character who had been around for hundreds of years it sure took Bess a long time to figure out the obvious.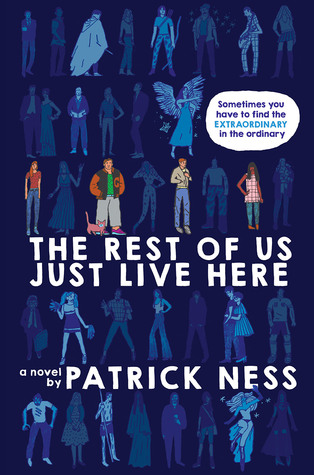 The Rest of Us Just Live Here
by Patrick Ness
"On the day we're the last people to see indie kid Finn alive, we're all sprawled together in the Field, talking about love and stomachs."
Runner up for best line. Loved the concept of this book, I just wanted MORE. Even though living in a world of heroes was interesting, it didn't really impact the plot and, if it weren't for that gimmick, I'm not sure I would have bothered to read the book.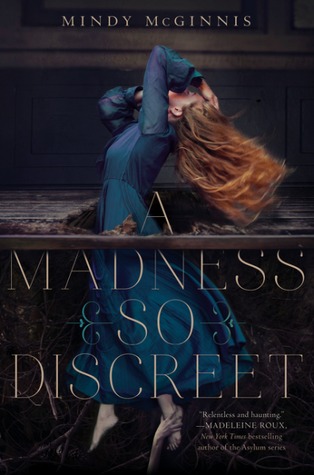 A Madness so Discreet
by Mindy McGinnis
"They all had their terrors."
This book had a lot of potential but the lackluster characters just couldn't pull it off. Trigger warning on this one - the first few scenes in the Boston asylum are pretty disturbing.
UP NEXT:
In October I have review copies of:
We'll Never Be Apart by Emiko Jean
The Devil and Winnie Flynn by Micol Ostow
Walk on Earth A Stranger by Rae Carson (a leftover from Sept)
I am also looking forward to the releases of:
Carry On by Rainbow Rowell
The Sword of Summer by Rick Riordan
The Rose Society by Marie Lu
Welcome to Night Vale by Joseph Fink
And I am really hoping to fit in a few books that I missed out on this summer:
Uprooted by Naomi Novik
The Last Ever After by Soman Chainani
Queen of Shadows by Sarah J. Maas
We are expecting some serious storm weather over the next couple days so I am hoping to jump start my October list on those dark, rainy nights.
That's it from me this month. What titles are you looking forward to?