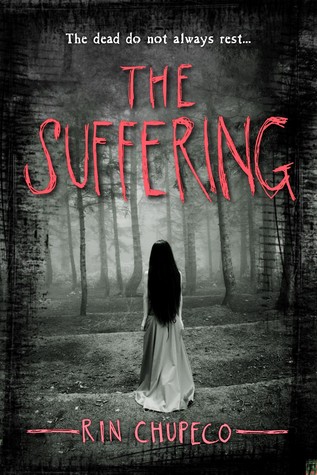 Title: The Suffering
Author: Rin Chupeco
Publisher: Sourcebooks
Release Date: Sept 8, 2015
Rating: 5/5
The Gist: It's been two years since Tark Halloway's nightmare ended. Free from the evil spirit that haunted him all his life, he now aids the ghostly Okiku and avenges the souls of innocent children by hunting down their murderers. But when Okiku becomes responsible for a death at his high school, Tark begins to wonder if they're no better than the killers they seek out.

When an old friend disappears in Aokigahara, Japan's infamous 'suicide forest', both must resolve their differences and return to that country of secrets to find her.

Because there is a strange village inside Aokigahara, a village people claim does not exist. A village where strange things lie waiting.

A village with old ghosts and an ancient evil – one that may be stronger than even Okiku…

Review:
We rejoin Tark and Okiku two years after the events of The Girl From The Well. The pair are still hunting for spirits and chasing down murderers. Their relationship has grown into something even closer than friendship but that means that Tark doesn't have much of a social life either. Okiku has agreed to hunt by his rules, until she decides to prevent a murder rather than punishing one. This leads Tark to question whether they are the good guys after all.

When I saw this title come up for review I clicked right away and didn't even read the synopsis. As such, I had no idea that it was going to be about Aokigahara - Japan's "Suicide Forest". That fact alone sets us up for some serious terror. If you haven't heard of this place go ahead, google. I'll wait.

Done? Right, so just the name gives me the shivers and I don't think I would ever be one of those brave souls willing to enter. Of course when their old friend, Kagura, goes missing, Tark has no other choice but to walk into one of the most haunted places on the planet. To make matter worse, the spirits in the forest are connected with Earth, which has a serious advantage over Okiku's water based ones. Tark has to take on a much stronger role in order to compensate for the fact that Okiku is often out of commission.
Inside the forest we find the mysterious lost village. Something dark and horrifying has happened to the residents of the town and one man's greed has led to some of the most terrifying ghosts that Tark has ever encountered. The story itself is very fast paced and creepy in a way that will definitely appeal to horror fans, especially those who love the Japanese take on the genre. There are terrifying ghosts, heart-pounding scenes, and a mystery which all add up to a read that you won't want to put down (unless it gets dark out and you are home alone and you can't take it anymore - I mean, I wouldn't know anything about that......)

The Suffering also holds an underlying thread of love and friendship. In the years since the events of the first book, Tark and Okiku have grown closer and have built a life together. Through the ending of this novel, we get to see just how dedicated Tark is to their relationship and just how far he will go to maintain their connection. It really develops the characters and their relationship and gives me high hopes for their being another book in this series as I am just not ready to let them go yet!
Bottom Line: I liked it even better than the first. Give me more!

Teaching/Parental Notes:

Age: 13 and up
Sex: Kissing
Violence: Fist fighting, Ghost attacks - sometimes bloody,
Inappropriate Language: Asshole, Bitch, Whore, Shit, Bastard,
Substance Use/Abuse: Underage drinking