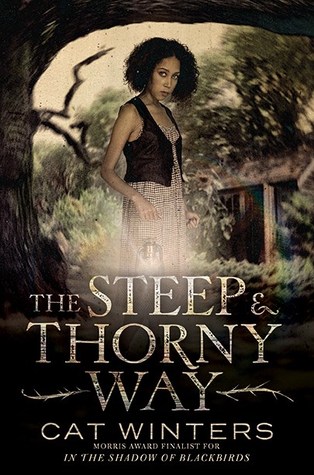 Title: The Steep and Thorny Way
Author: Cat Winters
Publisher: Amulet Books
Release Date: March 8, 2016
Rating: 2/5

The Gist: A thrilling reimagining of Shakespeare's Hamlet, The Steep and Thorny Way tells the story of a murder most foul and the mighty power of love and acceptance in a state gone terribly rotten.

1920s Oregon is not a welcoming place for Hanalee Denney, the daughter of a white woman and an African-American man. She has almost no rights by law, and the Ku Klux Klan breeds fear and hatred in even Hanalee's oldest friendships. Plus, her father, Hank Denney, died a year ago, hit by a drunk-driving teenager. Now her father's killer is out of jail and back in town, and he claims that Hanalee's father wasn't killed by the accident at all but, instead, was poisoned by the doctor who looked after him—who happens to be Hanalee's new stepfather.

The only way for Hanalee to get the answers she needs is to ask Hank himself, a "haint" wandering the roads at night.

Review:
While The Steep and Thorny Way is inspired by Hamlet, it is not your average re-telling. The plot follows the source material fairly closely in the beginning, but steps eventually steps away from the basic plot and becomes a great deal less predictable. There are some really terrifying moments that involve the KKK and some exploration on how easily these hate groups can pull in and indoctrinate new members. The violence is, however, tamed down a bit for a younger audience.

I enjoyed the main character well enough but I did not find her particularly interesting and she did not have the level of depth which usually endears a character to me. As with all the characters here, her motivations were unsurprising and single-minded. I did really enjoy the relationship between Hanalee and her best friend, but this did not feature very strongly in the second half of the book and I missed it.

While the book itself is enjoyable and it brings to light some very important and uncomfortable truths regarding racism and violence, I am a little uncomfortable with the thought of (what appears to be) a white author writing this story. It is not that I don't think she did a good job (though I am also white so I am certainly not the one to judge the validity of the young, black, girl experience) but in publishing it appears that there are a set of boxes to be ticked. When this one ticks the Historical Fiction exploring racism featuring an African American lead box, that means that another author, likely one of color, who wrote a book with similar themes, will not get published. It is a bit of double edged sword, we want to see more POC characters and themes, so this is fabulous, however, in an ideal world they would also be WRITTEN by POC.....