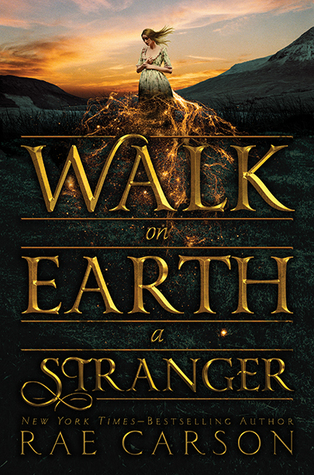 Title:
Walk on Earth a Stranger
Author:
Rae Carson

Publisher:
Greenwillow Books
Release Date:
Sept 22, 2015

Rating:
4/5

The Gist:
Gold is in my blood, in my breath, even in the flecks in my eyes.

Lee Westfall has a strong, loving family. She has a home she loves and a loyal steed. She has a best friend—who might want to be something more.

She also has a secret.

Lee can sense gold in the world around her. Veins deep in the earth. Small nuggets in a stream. Even gold dust caught underneath a fingernail. She has kept her family safe and able to buy provisions, even through the harshest winters. But what would someone do to control a girl with that kind of power? A person might murder for it.

When everything Lee holds dear is ripped away, she flees west to California—where gold has just been discovered. Perhaps this will be the one place a magical girl can be herself. If she survives the journey.

The acclaimed Rae Carson begins a sweeping new trilogy set in Gold Rush-era America, about a young woman with a powerful and dangerous gift.

Review:
Walk on Earth a Stranger is, ultimately, a story about how Leah learns to trust people and finds a new family. After her parent's brutal murder and the loss of the gold she had been collecting for years, Leah finds herself the target of their murderer, a person who will stop at nothing to gain control of her gift. With very few possessions and even less money, Leah begins the arduous trek to California to find her fortune along with so many other Argonauts. The journey is not an easy one, and certainly not a safe one for an unescorted young lady, so Leah becomes Lee - a young man setting out on his own, and gets hired on by a family also headed West.

While I found the plot to be a little less exciting than I would have preferred, the novel really shines in its character development. Throughout the journey, we get to see many sides not only of Leah, but also of the many companions that she meets along the way. By the end, she has learned to trust again and created a new family of her own. She has also learned just what she is capable of not in spite of, but because of, being a girl.

I was a little disappointed that the whole 'gold sense' didn't play as much of a role as I had expected, however, I also thought that this was a stand alone and not the beginning of a series. I am hopeful that Leah's gifts will play a greater role in the next book. The same can be said of the villain of the story. He book-ended the story with parts at the beginning and the end, which was slightly disappointing as he was dealt with rather quickly at the end. I will be much happier if he plays a larger role in the second book and adds and extra sense of tension.

There is also a theme of feminism that runs through the novel. This was refreshing and interesting as we watched Leah live as herself and disguised as a boy. As Lee, she was able to see how differently people treated her when she was in pants rather than skirts and as Leah she became more and more frustrated with the way that men, even those who care about her, tried to control her. I loved this aspect of the plot and look forward to even further development in the next book.

Teaching/Parental Notes:

Age: 13 and up
Sex: Kissing
Violence: Hunting, Murder by gun
Inappropriate Language: None
Substance Use/Abuse: None
Other Issues: Death from exposure, illness, childbirth