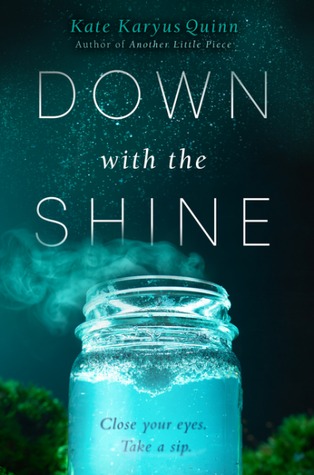 Title: Down with the Shine
Author: Kate Karyus Quinn
Publisher: HarperTeen
Release Date: April 26, 2016
Rating: 4/5
The Gist: Lennie always thought her uncles' "important family legacy" was good old-fashioned bootlegging. Then she takes some of her uncles' moonshine to Michaela Gordon's annual house party, and finds out just how wrong she was.

At the party, Lennie has everyone make a wish before drinking the shine—it's tradition. She toasts to wishes for bat wings, for balls of steel, for the party to go on forever. Lennie even makes a wish of her own: to bring back her best friend, Dylan, who was murdered six months ago.

The next morning gives Lennie a whole new understanding of the phrase be careful what you wish for—or in her case, be careful what wishes you grant. Because all those wishes Lennie raised a jar of shine to last night? They came true. Most of them came out bad. And once granted, a wish can't be unmade…

Review:

Kate Karyus Quinn has this way of writing a new novel that makes me want to go back and re-read all her other books so that I can savor them the way that they deserve. She never shies away from the darkness and, while that is what makes her so appealing to many readers, it may also result in some scenes that are rather intense for those on the younger end of the YA spectrum.

The characters in Down with the Shine are all incredibly complex and interesting. Lennie is a snarky teenage outcast with reason to feel like the world owes her one good night. I loved her strange relationship with her uncle, especially in the scene where they had been explaining the magic behind their moonshine and Lennie thought they were trying to have the sex talk.

Where the novel falls, unfortunately, is in the ending, which can't really be discussed without giving away the plot. Despite this, I enjoyed the writing and the story enough to give it 4 stars.