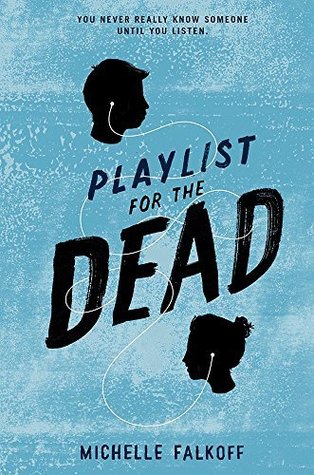 Title:
Playlist for the Dead
Author:
Michelle Falkoff
Publisher:
Harperteen
Release Date:
January 27, 2015
Rating:
2/5
Cover Impressions:
Super cute cover. Love the silhouettes and the looping earbuds cord.

The Gist:
A teenage boy tries to understand his best friend's suicide by listening to the playlist of songs he left behind in this smart, voice-driven debut novel.

Here's what Sam knows: There was a party. There was a fight. The next morning, his best friend, Hayden, was dead. And all he left Sam was a playlist of songs, and a suicide note: For Sam—listen and you'll understand.

As he listens to song after song, Sam tries to face up to what happened the night Hayden killed himself. But it's only by taking out his earbuds and opening his eyes to the people around him that he will finally be able to piece together his best friend's story. And maybe have a chance to change his own.

Part mystery, part love story, and part coming-of-age tale in the vein of Stephen Chbosky's The Perks of Being a Wallflower and Tim Tharp's The Spectacular Now, Playlist for the Dead is an honest and gut-wrenching first novel about loss, rage, what it feels like to outgrow a friendship that's always defined you—and the struggle to redefine yourself. But above all, it's about finding hope when hope seems like the hardest thing to find.

Review:
I really loved the concept of this book and I was really excited about the whole idea of a built in playlist. I started out strong, listening to each song as I was reading the chapter, but after a while I started to find it distracting. It also required that I only read while also wearing headphones which is more difficult than you can imagine with a three year old and an almost 2 month old. Basically, I could only read for the 10 minutes or so in bed before I fell asleep from exhaustion. So, while I applaud the idea, it didn't quite work out for me.
The story was decent, though not all that exciting. Basically we follow Sam around town as he listens to his ipod and tries to figure out why his best friend committed suicide. He is aided by an ohsospecial pixie girl with her own strange connection to Hayden. Adding to the drama is a series of attacks on Hayden's main tormenters and Sam's weird hallucinations and/or supernatural encounters. This had the makings of a good story, but it fell flat because
a) I didn't give a shit about the pain and suffering of the bullies
b) the bullies didn't ACTUALLY get all that hurt.
c) I didn't really get the attraction to the love interest
The characters weren't all that interesting, and the drama just didn't pan out. It also got a little preachy towards the end. Sam was just too good to be believable, easily forgiving everyone and things wrapped up way too cleanly. Everyone learned a lesson and the characters were all set on the road to redemption.
Playlist for the Dead isn't an inherently BAD story, it just wasn't all that great. The cover blurb compares it to The Perks of Being a Wallflower..... um no. No. No. No. It had a great concept, but the execution just didn't cut it.
Teaching/Parental Notes:

Age:
13 and Up
Sex:
Kissing
Violence:
Suicide, Fistfighting, Bullying, Character attacked with a baseball bat
Inappropriate Language:
Fuck, Shit, Piss,
Substance Use/Abuse:
Smoking, Underage Drinking