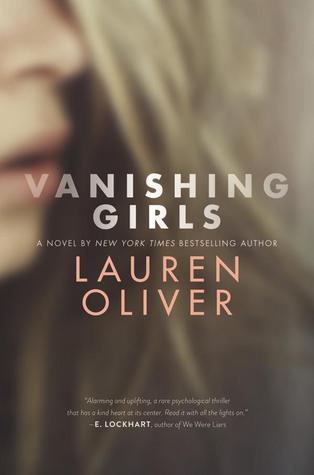 Title:
Vanishing Girls
Author:
Lauren Oliver

Publisher:
Harper Collins

Release Date:
March 10, 2015

Rating:
3/5
Cover Impressions:
Pretty, but not outstanding.

The Gist:
Dara and Nick used to be inseparable, but that was before the accident that left Dara's beautiful face scarred and the two sisters totally estranged. When Dara vanishes on her birthday, Nick thinks Dara is just playing around. But another girl, nine-year-old Madeline Snow, has vanished, too, and Nick becomes increasingly convinced that the two disappearances are linked. Now Nick has to find her sister, before it's too late.

In this edgy and compelling novel, Lauren Oliver creates a world of intrigue, loss, and suspicion as two sisters search to find themselves, and each other.

Review:
Vanishing Girls wasn't a bad book, in fact, it was a pretty damn good book. The characters were fine, not overly annoying and there was a fairly distinct voice difference between the two sisters. The love interest was dramatic enough to add interest but didn't overtake the plot. There was a sense of mystery that would keep readers on the edge of their seat, but - and this one is a big but - I feel like this story has been told before. In fact, I'm pretty sure I have read this story 2 or 3 times before.
The problem comes with the big plot twist - I'm going to try not to spoil anything, but that may get difficult so please, stop reading if you don't want to ruin your own reading experience. I figured out the big, unexpected, plot twist about 10% into the book and spent the rest of the time hoping that I was wrong. Once I had figured it out, it all seemed rather obvious and there were a lot of clues dropped along the way. I would love to hear from someone else, who perhaps hadn't read this particular story before and see when/if they figured it out and how their enjoyment of the novel differed.
On top of this, the whole "girl goes missing" mystery felt tacked on as a means to get the main character investigating, thereby revealing the plot involving her own family.
Teaching/Parental Notes:

Age:
15 and up
Sex:
Kissing,
Violence:
Car crash, exploitation of underage girls
Inappropriate Language:
Dick, Shit, Fuck, Slut, Tits
Substance Use/Abuse:
Underage drinking, smoking, use of drugs (marijuana, mushrooms, cocaine)