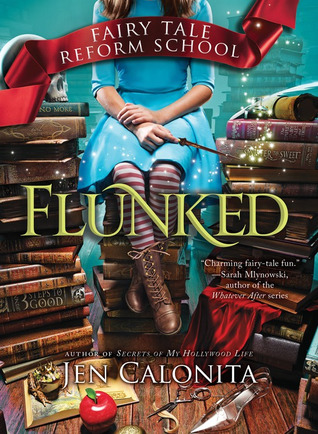 Title:
Flunked
Author:
Jen Calonita
Publisher:
Sourcebooks
Release Date:
March 3rd, 2015
Rating:
2/5
Cover Impressions:
I love the fun, magical vibe of this cover. It has just enough details to keep the eye moving without becoming overwhelming. I so wish the inside had maintained the standard of the outside.

The Gist:
Would you send a villain to do a hero's job? An exciting new twisted fairy tale series from award-winning author Jen Calonita.

Full of regret, Cinderella's wicked stepmother, Flora, has founded the Fairy Tale Reform School with the mission of turning the wicked and criminally mischievous into upstanding members of Enchantasia.

Impish, sassy 12-year-old Gilly has a history of petty theft and she's not too sorry about it. When she lifts a hair clip, she gets tossed in reform school-for at least three months. But when she meets fellow students Jax and Kayla, she learns there's more to this school than its sweet mission. There's a battle brewing and she starts to wonder: can a villain really change?

Review:
Oh so much potential. I love fairy tale books. I read a ton of them and I enjoy seeing each other's personal take on that world. This story has a pretty good premise: a reform school for kids from fairy tale villages who had fallen on the wrong side of the law. It should have been fun, it should have been charming, it should have been edited! Flunked felt like it was written by one of my students. There was an overwhelming amount of dialogue and very little exposition. The entire plot was revealed by characters telling rather than the author showing anything. The narrator had an annoying habit of adding thoughts in parenthesis that just made me roll my eyes with how false they sounded.
"We cross to another classroom (Wand Training! Who knew?)"
"Someone from Happily Ever After Scrolls is trying to sell magical scrolls (their latest invention)"
"Ogres are running at top speed (for them)."
There was no character development whatsoever other than the main character having some out of the blue change of heart at the end that came off preachy and unrealistic.
While the world itself was interesting, nothing was really all that different from the traditional fairy tales. There was so much thrown at the reader at once and it felt like the author was trying to cram in as many references as possible. This created a completely convoluted plot that had WAY too many villains, several of whom only showed up in the last 10 pages or so. This left no time to allow the reader to develop feelings toward any of the characters and it made it incredibly difficult to keep all the bad guys straight (especially since we hadn't even met 2 or 3 of them - only heard about them through other characters). Eventually, I just stopped caring.
I realize that this is a middle grade novel - but give the kids some credit. They need well written books too. If you are looking for a middle grade book with fairy tale connections - try The School for Good and Evil instead. It has all the fairy tale elements without the poor writing.
Teaching/Parental Notes:

Age:
Any
Sex:
None
Violence:
Magical spells, no one seriously injured.
Inappropriate Language:
None
Substance Use/Abuse:
None
Unanswered Questions:
If this is a school. Why did she only attend like one class?