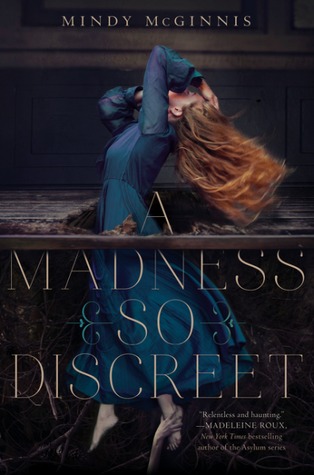 Title: A Madness So Discreet
Author: Mindy McGinnis
Publisher: Katherine Tegan Books
Release Date: Oct 6, 2015
Rating: 3/5

The Gist: Grace Mae knows madness.

She keeps it locked away, along with her voice, trapped deep inside a brilliant mind that cannot forget horrific family secrets. Those secrets, along with the bulge in her belly, land her in a Boston insane asylum.

When her voice returns in a burst of violence, Grace is banished to the dark cellars, where her mind is discovered by a visiting doctor who dabbles in the new study of criminal psychology. With her keen eyes and sharp memory, Grace will make the perfect assistant at crime scenes. Escaping from Boston to the safety of an ethical Ohio asylum, Grace finds friendship and hope, hints of a life she should have had. But gruesome nights bring Grace and the doctor into the circle of a killer who stalks young women. Grace, continuing to operate under the cloak of madness, must hunt a murderer while she confronts the demons in her own past.

Review:
Grace Mae, pregnant and broken, has been locked away in an asylum by the family that is supposed to love and protect her, but which has done neither. She endures the abuse and neglect of the asylum until she meets Dr. Thornhollow, who performs surgery on the more violent offenders. She concocts a scheme which will allow her to escape both the asylum and her family and which leaves her in the care of the doctor as his assistant. Under his tutelage, she begins to learn the science of profiling and seeking out murderers. As they get closer and closer to the serial killer they are trailing, Grace's past comes back with a vengeance and she creates a trap to punish her abuser, and save all those who might become his victims.

A Madness So Discreet explores the emerging science of profiling. Dr. Thornhollow and Grace study crime scenes in order to create a picture of the murderer and narrow down the pool of suspects until they are able to locate their prey. Unfortunately, this meant Grace received regular "lessons" in which Dr. Thornhollow droned on about profiling. If this is new information for the reader, it would be interesting. However, I feel like profiling has become such a big plot point for so many movies and TV shows now that all of this information seems like something everyone knows already; that murderers like to revisit the crime scene, that they are often impotent, that they have overbearing mothers etc. Since I was pretty familiar with all of this, these scenes were rather tedious and slowed down the plot.

The plot is can really be broken into three parts: the Boston Asylum, Grace's Instruction, and Grace's Revenge. The first section is a great read, but is full of triggers. The treatment of patients in the asylum is deplorable and, as a mother, I found certain scenes very difficult to get through. However, this sets the tone for a very creepy novel about madness and the treatment of the insane, but that is not the book that we get. Once she escapes, the tone changes completely and the plot slows considerably as Dr. Thornhollow teaches Grace the basics of profiling and she acclimates to her new hospital. Things become interesting again in the final part as we start to see a whole new side of Grace. By this point, she has received enough instruction to be able to operate capably on her own and has finally begun to take control of her own life. This makes her a much more interesting character. At this point, the plot moves much more quickly and we get to see just how devious, and forward thinking, Grace can be.

The novel was hit and miss when it came to the characters. Some, like Grace, were interesting and well developed while others, like Dr. Thornhollow and his sister were flat and unbelievable. Thankfully, there were no romantic elements as would often be expected in this type of novel and I was quite glad that the only part of Grace's body that the doctor seemed interested in was her mind. There are also characters that, while enjoyable, did deplorable things that were applauded. Overall, there was a theme of women gaining revenge against the men who wronged them, however they often did it in ways that I simply couldn't stomach.
Bottom Line: Solidly in the "Meh" category. It wasn't bad, but there wasn't anything that I LOVED about it.

Teaching/Parental Notes:

Age: 15 and up
Sex: None
Violence: Sexual Abuse, Abuse of a patient, Murder
Inappropriate Language: Bitch, Bastard, Whore
Substance Use/Abuse: Smoking