My son has exhausted me. As his first few teeth emerge he has morphed into what I like to call "the screaming and squealing baby from Hell". Since my head longs to hit the pillow, I thought I would share a few bookish items for bedtime.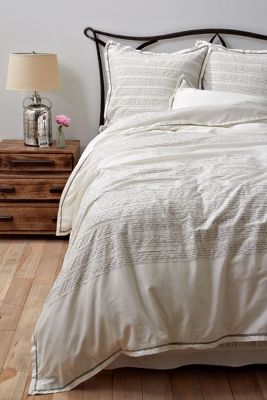 First up this beautiful bedding set, aptly named Fables & Feathers Bedding, from
Anthropologie.com
It features the Moral of the Story sayings by Aesop and offers a duvet cover and two styles of pillow shams. I do think the picture could have used a few books on the night stand for authenticity!
Don't you just want to crawl into that bed with a worn copy of Pride & Prejudice? Perhaps while wearing these Mrs. Darcy PJs courtesy of
Cafe Press
.
These are sure to get your gentleman's attention (or just your cat) as you parade around the house lamenting the serious lack of suitable men sporting cravats and brandishing monogrammed handkerchiefs in today's society. If these are not quite your style, the site also features quotes from Jane Eyre, the likeness of Edgar Allen Poe and *shudder* a proliferation of Twilight themed jam jams for those with less discerning taste.
And finally, for those of us whose household features a young, impressionable mind that we are attempted to mold,
Books to Bed
sells kids pajamas that feature some of the most popular books among that age group. They even provide bundles with a book and a toy to complete your night time ensemble. As soon as my son can appreciate character clothes he is getting a set of these (or 5).
There you have it folks, now it is time for me to put on my own jammies, cuddle up with a good book and pray to the Baby Gods that my son sleeps through the night!